Minusines s'installe à la Home and Living 
Comme ces dernières années Minusines S.A. sera présent à la Home and Living en partenariat avec son fournisseur Jung au Hall 8A. Cette foire, dédiée au logement et à ses idées novatrices, se déroulera du 13 au 21 octobre chez Luxexpo The Box à l'adresse 10, Circuit de la Foire Internationale, au Kirchberg.
Vous pouvez nous rencontrer sur notre stand en semaine entre 15h00 et 21h00 et entre 10h00 et 19h00 le week-end. N'hésitez pas à nous demander des tickets d'entrée grat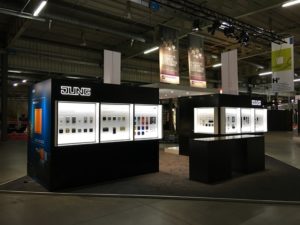 uits. Notre partenaire Jung mettra notamment en avant première la gamme LS1912. Cet interrupteur vintage a été remis au goût du jour et sera présenté sur notre stand en même temps que toute une gamme de produits actuels. Deux autres partenaires seront entre autres présents au stand Minusines S.A. à savoir Hauff-Technik et Helios qui eux présenteront tout un ensemble de produits de la dernière génération.
Rendez-vous sur notre stand si vous souhaitez découvrir ces produits innovants!